Southside Wrappers:
Personality, Puns & Street Food
As F&B is becoming more and more popular in the retail industry, we decided to catch up with one of our successful retailers, Southside Wrappers, to find out more about their street food business and any advice they have for new F&B operators.
Husband and wife, Ian and Karey, decided to leave their jobs just over a year ago to follow a dream of setting up their own catering business. Now trading from a converted trailer at Priory Meadow Shopping Centre in Hastings, Southside Wrappers' main product is quesadillas with a wide range of fillings. They vary this with daily and seasonal specials and a few puns along the way…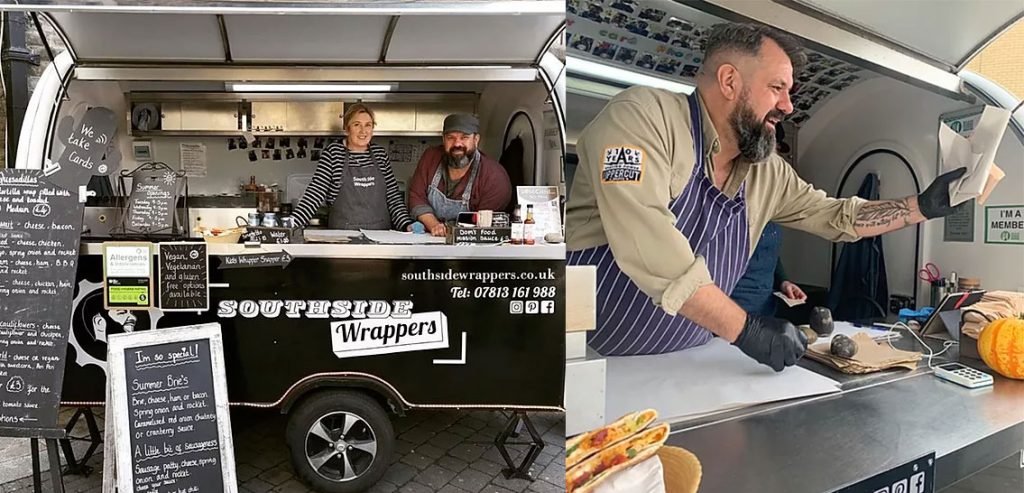 Southside Wrappers chose to start their business from a trailer rather than a shop unit as this allowed them flexibility to trade at festivals and events as well as at Priory Meadow. Ian told us, "People enjoy eating from street food trailers as you can make the food freshly in front of customers and they love watching it being made". He went on to say, "We love being part of a community;people want to come over and talk to you".
We love being part of a community; people want to come over and talk to you.
Ian
southside wrappers
Southside Wrappers have a loyalty card scheme which encourages repeat customers by offering a free meal after six orders. They have a 'wall of fame' in their van with photos of all their loyalty card holders, which makes customers feel involved and a part of the business.
When asking Ianand Karey if they have any advice for start-up F&B retailers, Ian stressed, "Make sure you have a really good think about what you want to do" and Karey added, "It's important to offer something different but to ensure there is variety within that product". With Karey being gluten free, she always struggled to find exciting lunch options which is why it was so important to her to think about this. Whilst standing by their trailer, a loyalty card customer who works nearby explained he buys lunch there everyday as there are limited vegan options around.
Southside Wrappers are very active on Facebook and Instagram, updating customers on daily specials and the latest offers.We asked them how important social media is for their business and Ian said, "Without social media I don't think we would have got to where we are now. We've got to the stage where people come over and know us". He also explained, "It's all about personality and engaging with customers. I could be a chef at the back of a restaurant but that's not what I want. I like to interact with people".
Finally, we asked them where they see their business going in the future and both Karey and Ian responded, "We want to get bigger!" They have lots of exciting plans to grow their business and are eventually aiming to have a permanent position in Priory Meadow… Watch this space!